Derwent Class
Crimple Class Learning Journey 2019-2020
10 March 2020
Many thanks to all the families who attended our Phonics and Reading information evening today. If you were unable to attend, you will find the presentations below. Feel free to ask us if you are unclear about anything!
Y1 Phonics Presentation 2020Y1 Reading Presentation
10 February 2020
In DT this week we have been making fruit kebabs. The children designed and then created their kebabs. We also used our maths learning and created a repeating pattern with our fruits.
23rd January 2020
In science this half term we have been learning about the human body and our senses. We
have also been learning about sketching and have looked at articulated artists' models in ART.
13 December 2019
Today was Christmas Dinner day. We made our own festive hats and the children and staff all ate together in the Dining Room. We had a joyful time!
25th November 2019
In PSHE we have been talking about keeping safe. We discussed the difference between real and imaginary dangers and things that could be dangerous or unsafe if they are not used correctly.
25th October 2019
In DT we have been busy making bird feeders. We made two different types of bird feeders! Some with bread and others with paper rolls. We created and then evaluated our bird feeders!
11 October 2019
There has been great excitement in Year 1 this week. The fairies came to visit. We have been reading The Enchanted Wood by Enid Blyton to the children as our class novel.
The fairies left some letters, requesting our help to find some of their friends who had disappeared, and the children were inspired to write back lots of letters. We have had a 'magical' week!
12 September 2019
Crimple Class have really settled into Year 1 and have enjoyed working on all of the fun challenges around the classroom!
We have been learning about woodland animals and are beginning to learn about the different classifications.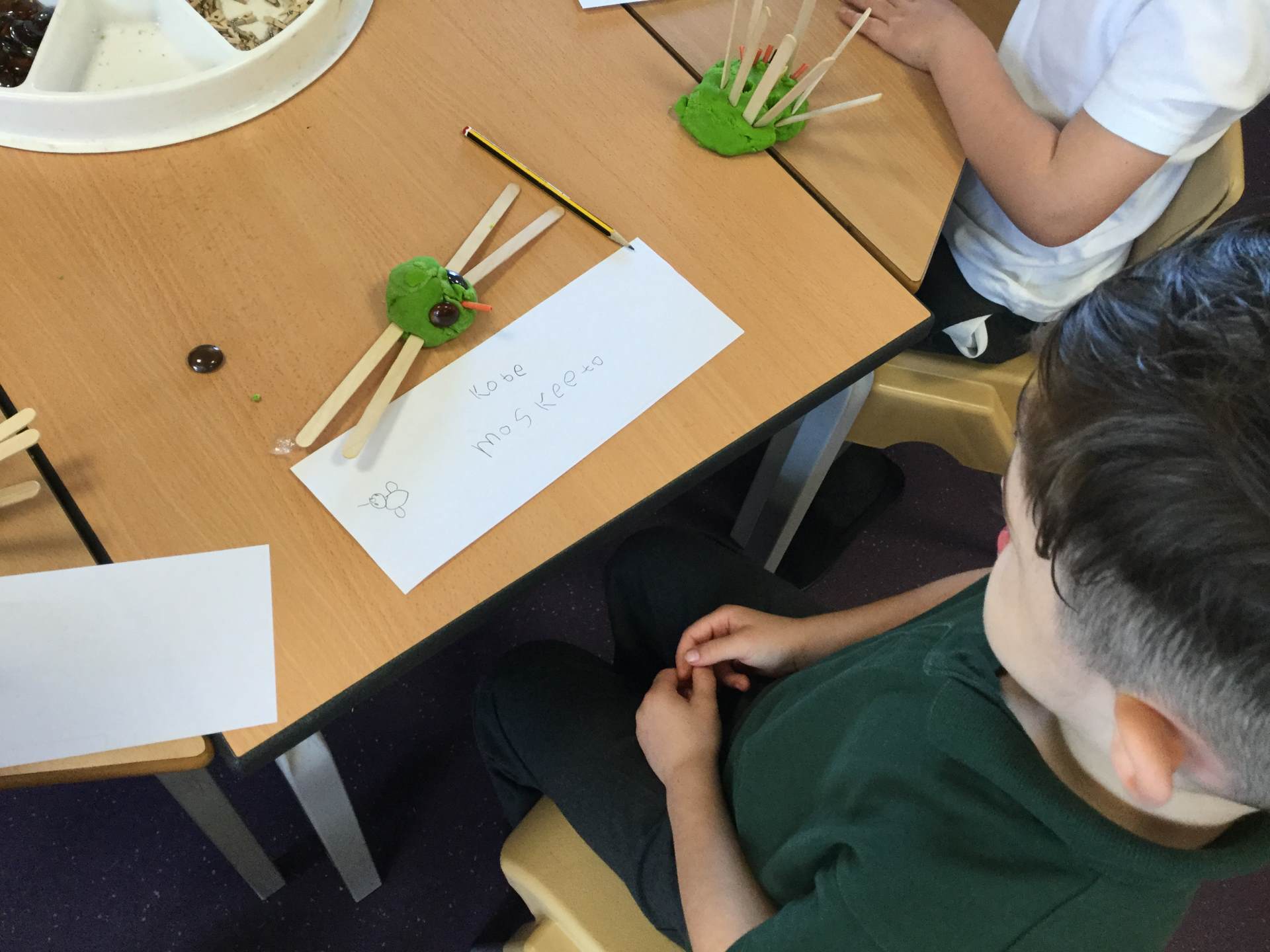 Aire Learning Journey 2018-2019
17th September 2018
In Aire Class, we have been busy settling into school life. We have learned lots of new things; ordering our own lunches, meeting new friends and playing with the big children in the playground!
1st October 2018
Aire Class have been practising their name writing. This week we have been learning about the Funny bones story. Lots of the children have created their own moving skeleton, using split pins. We also did some lovely skeleton paintings, which will be going on one of the school displays.
19th December 2018
Wow! What an amazing Christmas Nativity performance from all the children in Reception. Its a little sad that some of the children were missing due illness but they all worked so hard in the run up so you should all be very proud.
7th January 2019
I hope everyone had a restful and enjoyable Christmas and all the best for 2019!
18th January 2019
What a busy two weeks back at school. The children have made a great start to the term and are enjoying our new topic - Water. They have learnt lots of information about different fish, why don't you ask them to share a fact about a stonefish?
5th February 2019
For the next two weeks we will be learning all about Chinese New Year. So far we have read 'The Great Race and Liang and the Magic Paintbrush' We have also looked at which Chinese Zodiac animal we are which was very interesting! Ask us to see if we have remembered.
Gung Hei Fat Choy!
6th February 2019
Our Aire Class assembly was amazing. I'm very proud of the children and how well they said their lines and sang the songs. Thanks for all the parents that came and then joined us in Reception for some playtime.
11th March 2019
We are very busy creating our Alien Hand Puppets. If anyone is free to help us, please let Miss Barrett know.
28th March 2019
The Alien Hand Puppets look fantastic and have taken lots of our time. The children are proud of their work, you can check their amazing work on Tapestry. Thank you to all the adults that supported us.
15th April 2019
Welcome back! This half term is set to be a busy one already. We are learning lots about Traditional Tales and Farms this half term. Keep your eyes open for our fluffy visitors!
24th April 2019
The eggs have arrived and are in the incubator Fingers crossed we get lots of chicks!
29th April 2019
Mr Richards looked after the eggs in the incubator this weekend.
We also had a visit from a Farmer Bob, he told us lots of information about tractors and the animals on the farm.
We are learning all about the story "The Little Red Hen" this week.
24th May 2019
What a great half term we have had but its been very busy! I'm very excited to say that the chicks will not be going back to Meanwood Valley Farm and that they are on the way to at Miss Stirks friends farm.